Lobo Gun Leather IWB Offset Holster
A few months ago I received a new
Offset Belt Clip IWB Holster for my Ruger SR9c from Ray Cory. I posted an introduction to Ray and his advice from many years of law enforcement experience here: http://sdcarry.blogspot.com/search/label/Lobo%20Gun%20Leather
I have had the opportunity to use his offset IWB holster for two different, albeit, similar guns. Ray made this holster for my SR9c and it performed as advertised for that task – securely and comfortably with a high enough ride to ensure the grip on the pistol was available for a fast and secure draw. Ray uses rather thin and flexible leather for this holster, cowhide in this case, not horsehide which I understand is stiffer than cowhide for the same thickness. While adequate for the Ruger, I personally would not have wanted to go with thinner leather, but I did enjoy the resulting comfort of the holster.
I no longer have the Ruger SR9c. The Smith & Wesson M&P Shield is now my main carry gun. Curious about how this holster might work with it, I tried the Shield in Ray's holster designed for the Ruger and found it is almost a perfect fit. There may be a fraction of an inch extra on the slide shield, but if you didn't know the holster wasn't made for the Shield, you would never guess. The positive thing for me is that with the Shield's lighter weight, the holster feels just right. Not to stiff, not too flexible. The comfort is still there as is the excellent positioning of the grips above the belt line. And, the offset clip, riding behind the bulk of the pistol in the holster, keeps the profile slim and makes it even for concealable.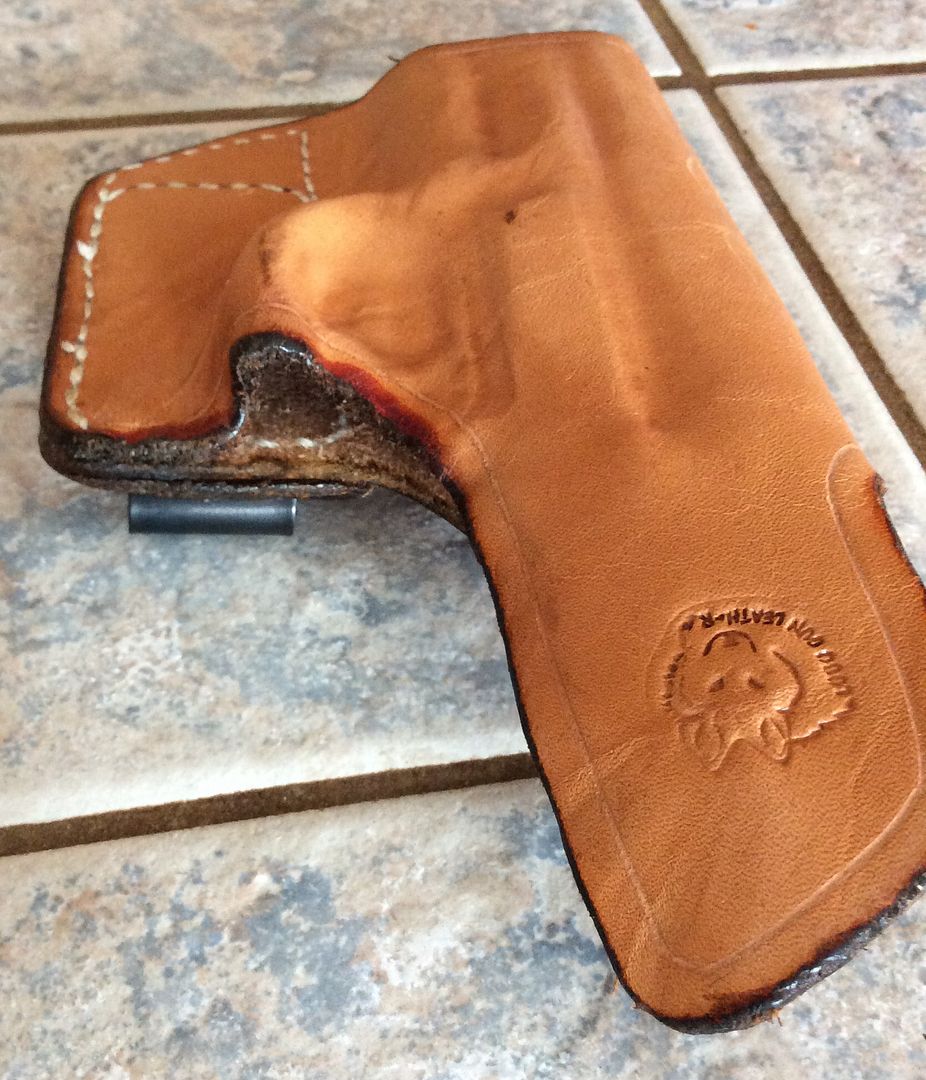 Sometimes too much is made of a holster's ability, or lack of it, to enable easy one-handed re-holstering of a firearm. There are times and activities in which this is a good thing to have in a holster, for example during practice sessions or at the range, but for a self defense carry gun and holster, I don't think it is a necessary feature. When I carry in public, the gun stays in the holster, and will do so unless the time comes for me to produce it. I doubt if I will be required to re-holster later without the aid of my other hand or eyes. Your opinion may differ.
So, for a good, well made and comfortable holster at a reasonable price, take a close look at Ray's work on his site: http://www.lobogunleather.com/1_home